Basics
Can I make international calls?
Yes, with RingPlan you can make and receive international calls. Limits apply for free plans. Extend these limits by upgrading to a paid plan.
Do you offer a free version?
RingPlan has discontinued the free Trial Version of the software. Users can still take advantage of the low-priced starter plan or can take full advantage of all features by signing up for an Enterprise plan.
Is there a limit to the number of inbound toll-free calls I can receive?
While there is no limit to the number of inbound toll-free calls you can receive on a paid plan, 5000 inbound toll-free minutes per month are included with an enterprise plan. Additional inbound toll free minutes are billed at a low per minute rate. Speak to a representative if you would like to know more.
What added benefits exist with the paid version?
With a paid account you will get access to unlimited outbound minutes, you will be able to make unrestricted international calls, you can also add new toll free numbers and local numbers as well as port your existing numbers to our services. Compare plans by reviewing a full list of benefits by visiting our pricing page.
What kinds of phones can I use with RingPlan?
RingPlan users can select from several pre-configured enterprise-grade IP phones, ordered directly from your RingPlan dashboard; users can use existing IP office phones by configuring their device with the RingPlan platform; or users can use their mobile devices by installing the app.
Would I be able to manage my own phone services?
Yes, RingPlan puts you in control without any hidden costs. Use RingPlan to perform services traditionally only available from submitting a support ticket with the phone company. To get the maximum out of your phone system, upgrade to a paid plan. Compare plans by visiting the pricing page. New features are being added regularly.
Do you offer training documentation?
RingPlan users can access the training library, including videos and downloadable documents by visiting https://ringplan.com/learn/. Users can also visit our blog at Blog for timely articles on important news and updates.
How to acquire COB/CSR from your current carrier
Obtaining COB/CSR From AT&T
AT&T only provides a Local Customer Service Record for TN's who are associated with:
– VoIP
– UNE-P
– UNE-L
– T1 and Facility based
In order to obtain the document, you will be asked to complete the Customer Service Information Request. Luckily, the form can be found online. You can submit your request here.
If you are an LSP acting on behalf of a customer as an authorized agent, you too can obtain the CSR. The only difference is that you will also need a Letter of Authorization.
AT&T will send you the required documents along with the Copy of Bill to your email.
Obtaining COB/CSR From Cox Communications
If you would like to obtain your CSR/COB number from Cox Communications you would have to request the document from their customer support.
In order to obtain it, you are to contact an agent and clearly describe your need in great detail.
You can reach out to their support staff via:
– A live chat on their website

Obtaining COB/CSR from RingCentral
If you'd like to port your number from RingCentral you will need to contact their support team. Give RingCentral a call to request your Customer Service Report. Please, explain your inquiry in detail.
– You can find their support page here.
– You can launch their live chat app from their Contact Us page.
– Or you can contact RingCentral by phone: 1-888-898-4591 (Within the United States)
Obtaining COB/CSR from Spectrum/Charter
In order to obtain your CSR/POB from Spectrum/Charter, you are to reach out to their managers and request the form. You can do so via an online chat or phone.
– Contact their virtual assistant over an online chat here.
– Give them a call: 1-833-267-6094
Obtaining COB/CSR from Telepacific/Mpower/TPX
The procedure of obtaining your CSR/COB relies on contacting the company's support managers. Reach out, explain your inquiry, and request the CSR to your email.
– Submit a ticket to the OneCentral Customer Support Portal
– Submit a ticket vi a Dash Customer Portal
– Phone: (877) 487-8722
– Email: MSxSupport@tpx.com
Obtaining COB/CSR from Windstream
Obtaining your Customer Service Record alongside the Copy of Bill from Windstream requires a call to the help desk. Contact their managers to request the documents to your email.
Feel free to launch their live chat or contact them from their support page. Alternatively, you may call them at 1-800-347-1991.
What is CSR?
CSR or a Customer Service Record is essentially a set of numerous records such as personal information, activity history, and phone numbers that your carrier holds.
In simpler words, it is a document that proves your or your business's phone number is your own. It is most commonly used to increase the likelihood of your port requests' approval. Additionally, it speeds up the whole process by a large margin.
That said, obtaining your SCR from your carrier might prove as quite the challenge as the procedure is rather complex due to the sensitive nature of the information the document holds.
Luckily, you don't have to go through the bureaucratic hell on your own. We've already taken the bullet with your name on it and are willing to guide you through the entire process hassle free.
All that's left for you to do is to pick your carrier and follow the guidelines.
The process of obtaining your CSR/COB isn't rocket science. The only thing that adds a couple of complications is the sensitive nature of the document and the fact that most companies are not too keen on publicly displaying information or guides related to porting your number. That said, a couple of calls or a single online submission should do the trick just fine, once you know what you are doing.
Phone Configuration
How to install Softphone application?
To set up your softphone account:
1. Open my.ringplan.com/download on your Smartphone and download the softphone application.
2. Go to your Settings inside the app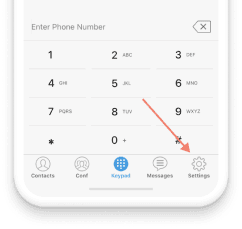 3. Click on Account settings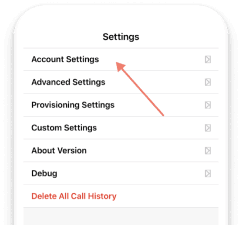 4. Add an account: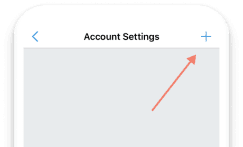 5. Select: UCM Account and scan the QR code provided to you when you signed up for RingPlan.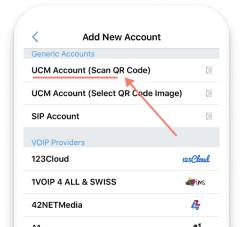 Notice: This is your private phone configuration file, keep Your QR code secret and do not share it to any third party.
6. Finalize the process. If successful you will see the red dot on the top-right of your phone screen turn green.
Manual Polycom Provision
To Manually Provision IP phone:
Access the menu button (House button) on your phone.
Open Settings
(4) Status
(2) Network
(1) TCP/IP Parameters
Write down IPv4 Address
In a web browser of a computer on the same network as the phone, type https://
Enter the Password either 456, or 789
Settings -> Provisioning Server
Enter into the Server Address / Server User / Server Password information.

Click Save button.
Phone System
Can I transfer an existing phone number to RingPlan?
Yes, you can transfer your numbers to continue using it. You just need to sign in to RingPlan and submit the request. As your numbers ported successfully you'll get an email.